Description
The NQAD from Osaka Soda is an advanced aerosol-based detector that uses proprietary technology to condense moisture on aerosol particles. This enables highly sensitive detection with a higher accuracy than UV and MS detectors – the industry's two standard detectors, making this the perfect 'third detector.' It captures components that have been overlooked in the past.
Are you tired of using detectors that lack selectivity and fail to separate the target component from various components in your samples? We understand the importance of selectivity in analysis, which is why we present Osaka Soda's NQAD, the revolutionary aerosol-based detector that guarantees highly selective detection.
Features
Superior Selectivity:

Osaka Soda's 

NQAD

ensures that you can detect only the components you are interested in, allowing for precise and accurate analysis.
Comprehensive Analysis: While selectivity is vital, we also recognize the significance of understanding the whole picture of your sample. Osaka Soda's NQAD allows you to view the complete separation and empowers you to set appropriate analysis conditions.
High Sensitivity: Experience unmatched sensitivity for all compounds, even those with no absorption and ones that are difficult to ionize.

Osaka Soda's 

NQAD

leaves no compounds behind, ensuring you achieve precise and reliable results.
Universal Detection: With

Osaka Soda's 

NQAD

, you can confidently analyze a wide range of compounds, making it a versatile solution for various applications. 

NQAD enables highly sensitive detection of both non-absorbing compounds and compounds that are difficult to ionize.

Quality Assurance: In an era where making the right choices is crucial,

Osaka Soda's 

NQAD

acts as your trusty companion, verifying the correctness of your decisions and enhancing the overall reliability of your analysis.
Say goodbye to subpar detectors that hinder your research and data accuracy. Upgrade to Osaka Soda's NQAD and unlock the true potential of your HPLC analysis. Trust in our cutting-edge technology to deliver exceptional results and take your research to new heights.
What can be detected by NQAD?
Substances that do not absorb UV
Substances that are difficult to ionize
Substances that do not have electrochemical activity
Substances with unknown properties, etc.
What is Water-based Condensation Particle Counter (WCPC)?
The Water-based Condensation Particle Counter (WCPC) technology condenses supersaturated water vapor onto the aerosol particles of analytes to form large droplets with increased density of the scattered light, which are counted as number of pulse signal when passing through the laser beam of an optical detector.
Therefore, compared with that to count the density of scattered light, WCPC technology achieves improved sensitivity and wider dynamic range.
Since it is detected as a droplet, it is not affected by the physical properties of the substance to be measured.
Principle of the detector
Spray - Spray with a nebulizer that uses dry air (or nitrogen).
Vaporization - The remaining non-volatile, and semi-volatile substances are introduced into the WCPC.
Condensation - In supersaturated water vapor, water aggregates are formed with non-volatile, and semi-volatile substances as nuclei, and the droplets grow until they reach μm order.
Detection - The droplets are counted with a particle counter (laser).
Wide dynamic range from nanograms to micrograms
With conventional aerosol-based detectors, two calibration curves, one for the low-concentration region and the other for the high-concentration region, were created.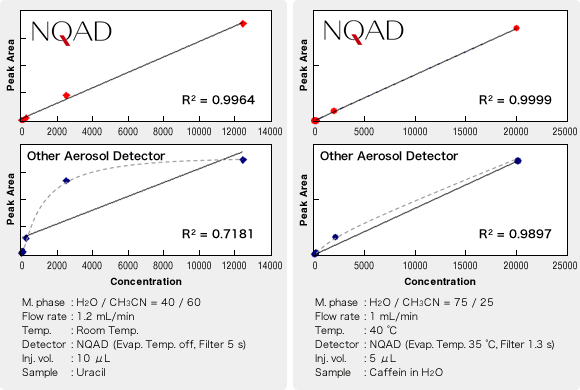 Specifications
Product No

5600

power supply

AC 100-240V, 50/60Hz, 157W

Size (Body)

180(W)×320(H)×430(D)mm

Weight (body)

10.8kg

Compatible software

OpenLAB EZChrom

method

Moisture Aggregation Particle Scattering Light Pulse Counting

Available flow rate

0.1 - 2.2 mL/min

evaporator temperature

10 – 100℃

nebulizer gas

Dry air or nitrogen (with THF)




up to 4.7 L/min, 276 kPa (40 psi )

nebulizer temperature

15 – 40°C

flocculant

water (distilled water)

Wetted part material

PFA, PTFE, ETFE, FEP, SUS316, PEEK, Ruby, FFKM

control panel

5 inch liquid crystal display touch panel

analog output

0 – 1.00V

Data acquisition speed

up to 100Hz

communication

Ethernet, USB
*Please note that appearance and specifications are subject to change without notice.
Additional Resources