Description
Combine high precision flow and ease of use. The UI-22 pump uses a linear driver mechanism in which the plunger moves in line with the motor's axis.
Because aspirated air can be easily discharged, and with the seal suffering almost no wear, tiny leaks from the seal are eliminated, which means that even highly volatile solvents can be efficiently pumped.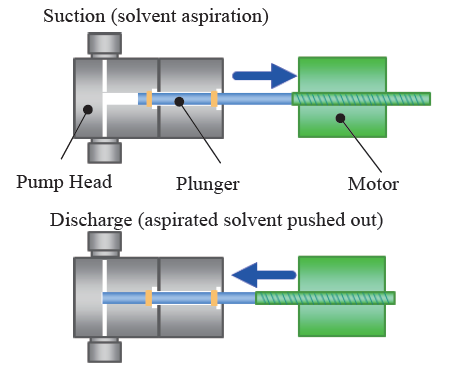 Features
Reduces pulsation to an absolute minimum, making super low pulsation flow possible
Problems with bubbles greatly reduced
Plunger seal life extended
Limit switches for both high and low pressures
Space-saving compact design
2 or more pumps can be externally controlled thru RS-232C interface
Choose either PEEK or Stainless Steel to match solvent used
Specifications
Product Name
Intelligent Pump
Part Number
UI-22-110
UI-22-410
Pump head material
SS
PEEK
PCTFE
SS
PEEK
PCTFE
Max pressure

 

*1
35MPa
20MPa
2MPa
5MPa
5MPa
2MPa
Flow rate range
0.001~9.999 mL/min
0.01~99.99 mL/min
Flow per stroke
80μl
708μl
Plunger stroke
10mm
Flow accuracy
<0.3%
Features
Active pulse reduction, Flow volume calibration,Upper and lower pressure limiter
Pressure accuracy
<5%
Wetted material
SS type: SS, Sapphire, Ruby, PTFE, PCTFE
PEEK type: PEEK, Sapphire, Ruby, PTFE, PCTFE
PCTFE type: PCTFE, Sapphire, Ruby, PTFE, ETFE
Remote control
Input: PUMP On/Off・Output: Error signal
Communication
RS232C
Dimensions
144(H) x 105(W) x 240(D)mm
Weight
Approx 5.6kg
Order Code
SLP-P509
SLP-P514
SLP-P517
SLP-P511
SLP-P516
SLP-P510
*1

 

Maximum pressure is only sustained intermittently. Continuous pump operation at maximum pressure cannot be guaranteed.
Note: The specifications and product design may change without prior notice.
Join our Newsletter
Receive updates regarding new applications, product releases, exclusive sales and more!