Description
Capcell Pak SCX UG80 is a polymer-coated strong cation exchange column in which sulfonic acid groups are introduced after applying a polymer coat that solves the problems encountered with conventional silica-type ion exchange columns. High durability and lot reproducibility have been achieved by using the polymer coating. Since the hydrophobic part is used as an anchor when introducing the sulfonic acid group, the column shows characteristic retention behaviour as hydrophobic interactions also come into play.
Features
Since high-purity silica is used, coordinating compounds are not absorbed.
Irreversible adsorption by complex formation is not recognized because of small metal impurities in the packing material.
【Fig. 1】 Simultaneous analysis of eleven biogenic amines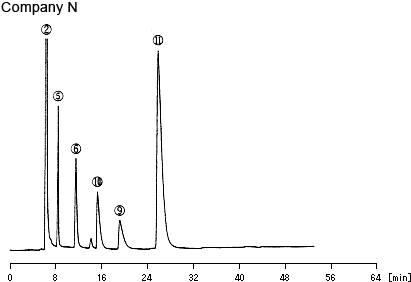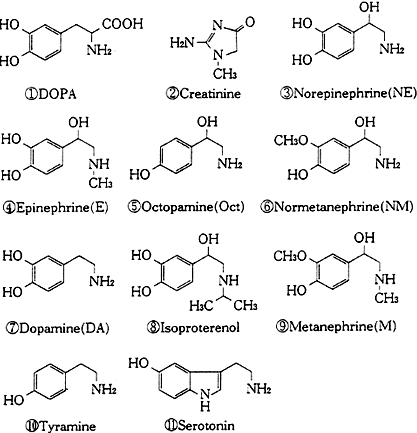 Si-C bonds used in the polymer film is more stable than Si-O-Si bonds of conventional silica-based SCX columns.
【Fig. 2】 Comparison of durability for 500-hour continuous flow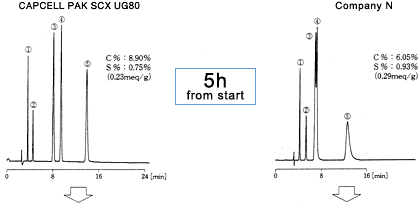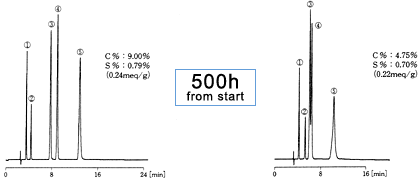 Good lot-to-lot reproducibility
An excellent reproducibility was obtained by performing sulfonic group modification on the polymer surface, instead of doing it directly on silica as conventional SCXs did.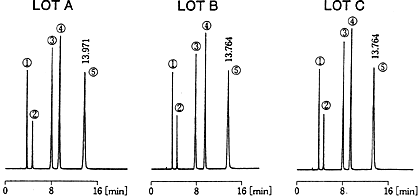 Utilization of the ion exchange method with the ion exchange column and the ion-pair method with reversed phase column based on abundant data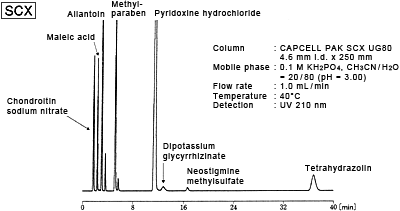 | | | |
| --- | --- | --- |
| | 【Fig. 4】 | Comparison of ion-exchange mode and ion-pair mode |

| | | |
| --- | --- | --- |
| | 【Fig. 4】 b) Water soluble vitamins | |
| | |
| --- | --- |
| | 【Fig. 4】 c) Cationic surfactants |
Property Values
Pore size
(nm)
Particle size
(µm)
Specific surface area (m

 

2/g)

C%

Density (µmol/m

 

2)

Functional group

Acceptable pH

USP

8

5

450

9

0.9

Sulfonic group

2~7

L9
Application Data
Join our Newsletter
Receive updates regarding new applications, product releases, exclusive sales and more!